November 2019
Project 4: Timeline
A Brief History of Camouflage

For our final project I decided to create a timeline on the use of camouflage. I had a lot of fun with this project because I am into fashion, and camouflage is definitely in my wardrobe. It was interesting to learn that camouflage was simply used for military purposes and overtime it was able to influence today's culture.
During this project I worked a lot with creating my own patterns. My favorite pattern created was the replica of the "Camouflage Self Portrait" by Andy Warhol. After some feedback, I chose to create a map-like background to coincide with the military aspect.
October 2019
Project 3: Article Illustrations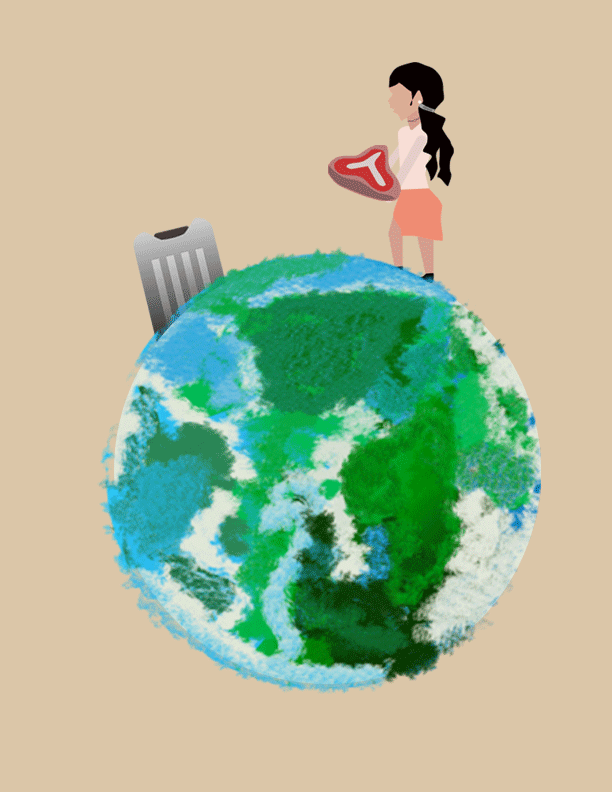 This article simply discussed the benefits of decreasing the amount of red meats that we consume, as well as its benefit towards mother earth. Consuming red meat in our regular diet, increases the risk of death. Studies showed that red meat impacted the environment most in comparison to chicken, eggs, fish and dairy products.
For this article I decided to make mother earth the center of attention. I wanted to physically show an individual throwing out the use of the red meat. Therefore, with less consumers, mother earth and humans will both be benefited from this action.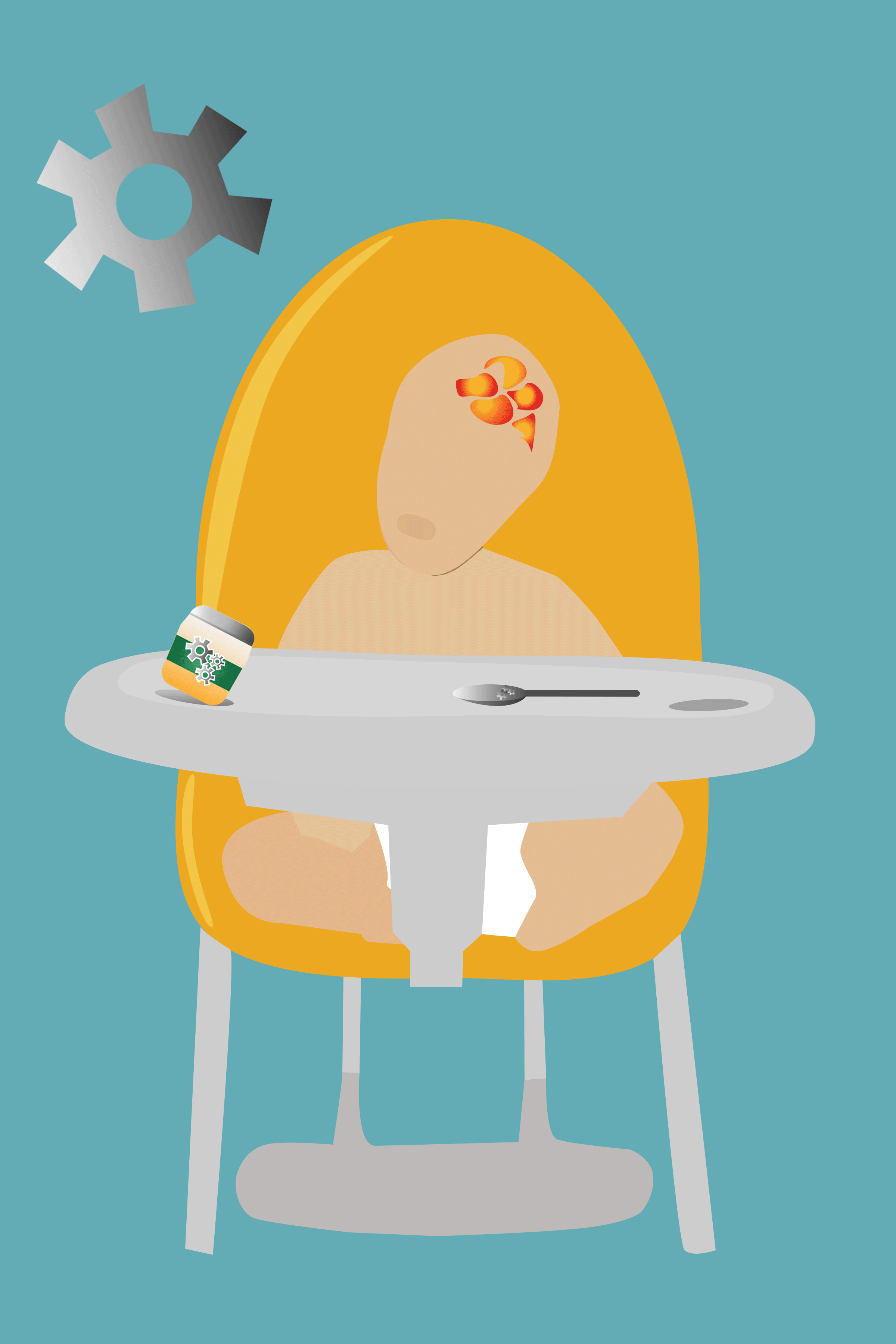 This article touched upon a recent discovery that toxic metals have been found in baby foods. The article described that the intake of toxic metals in infants can result in lower IQ's.
In order to express the effect of toxic metals in infants I decided to showcase that the food itself had metal within it. At the same time I wanted to show the babies brain being confused and overall their being caous when consuming these toxin filled foods.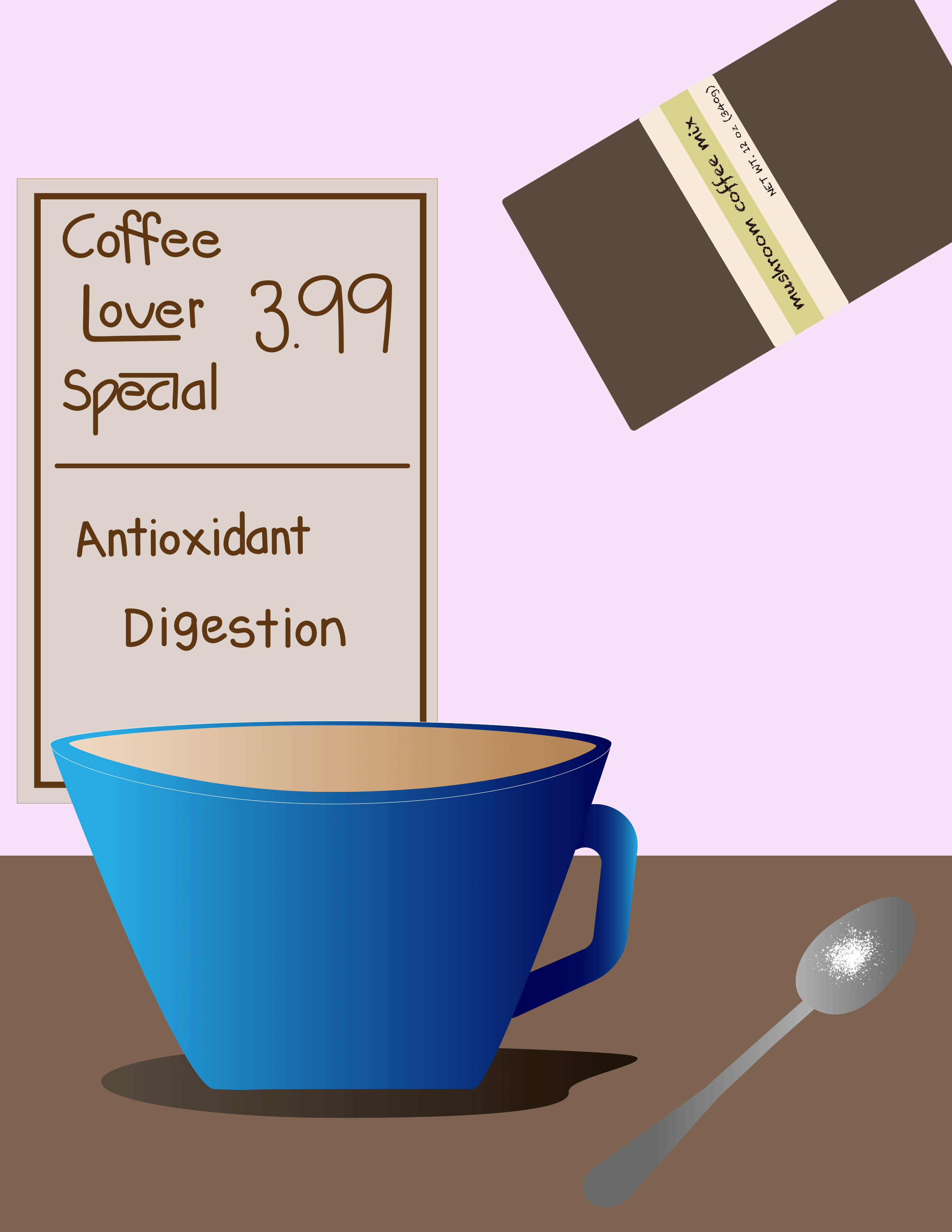 Lastly, this was a fun article to read. It described the trending issue of mushrrom coffee. Why drink mushroom coffee at all? According to USA Today, mushroom coffee is a great antioxidant a good for digestion.
This piece was fun to create because it was the first of the three articles I worked on. I wanted to create a gif because I've never worked with gifs before so I thought it would be interesting to explore this field. I can admit it was very difficult for a first timer, which is why I decided to create all three of my pieces as gifs. I never knew mushroom coffee was an actual thing so I thought it would be funny to literally incorpotate mushroom pieces falling into a cup of coffee. Of course I could have done more, but I was very happy with my end product because it gave me a fun visual feeling.
September 2019
Project 2: Scalable Icon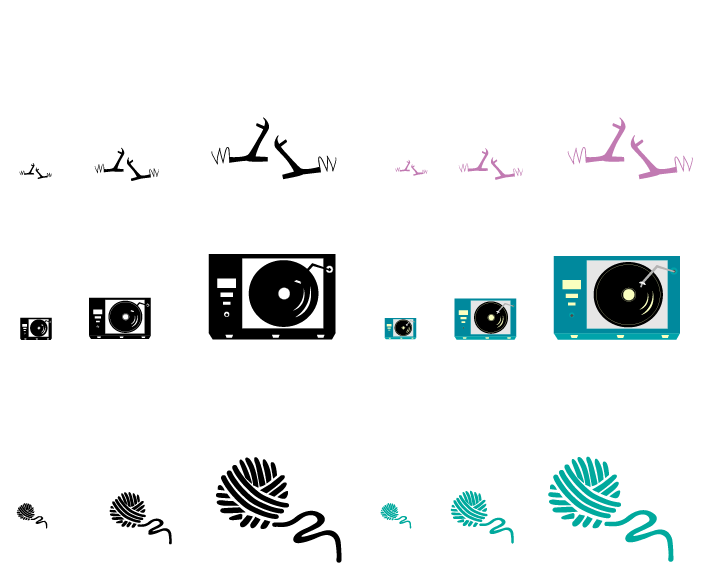 Project two includes three icons that helps represent my individuality. I have developed two versions, one in which is in color and the other in monochrome. I have decided to include my love for fashion, as well as my interest in music and knitting. I decided to incorporate heels as my main image to show my love for shoes. I've always had difficulty feeling comfortable in the way I walk in heels, so I decided it was a great way of incorporating my love for fashion and growth of learning how to walk.
Secondly, I chose to incorporate my love for music by creating a record player. I love old school music and the use of old devices. Using iphones as our source of music, takes away from the authentic vibe experience. When I am able to chose a record and play it, I enjoy my experience immensely. Lastly, I embraced my love for knitting in my last piece. I created a ball of yarn flowing freely.
August 2019
Project 1: Isometric Avatar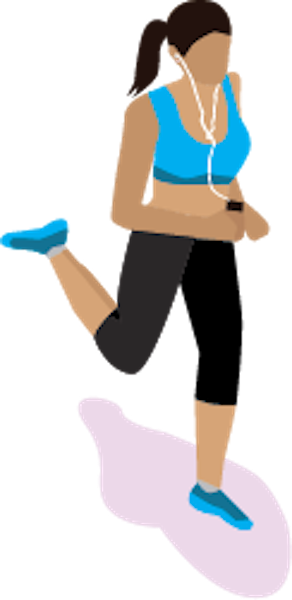 Project one is an isometric avatar design, in which I chose to portray a running girl. I found desiging myself challenging because I've never dabbled with isometric figures. I wanted my figure to be in motion, so I decided to show myself running and listening to music. In order to express myslef a little further I chose the color blue, since it is one of my favorite color. Lastly, in terms of clothing, my wardrobe is filled with cropped tops and sneakers so I wanted to include it in my main concept.